Best Travel Agency Software
With our own experience of running a successful travel agency for the past ten years we are in the bets position to design and implement travel CRM as we know about each and every minute problems faced in managing a travel business.
Salient features of our Travel Agency CRM
Colorful simple layout with icons and beautifully designed layout for easy usage.
Leads Management
All leads generated from web forms from websites and landing pages for google ads are automatically added to the CRM. Option of random assignment to different users or can be done by manager. Autogenerated email is sent to all stake holders
User checks the lead quality, fake or genuine, duplicate, spam etc. and converts it into opportunity if the lead is genuine and customer is interested in travel services.
Opportunity Management
Genuine leads are converted into opportunity for further processing
Users can also add genuine leads received on phone / email / WhatsApp etc. into the opportunity section.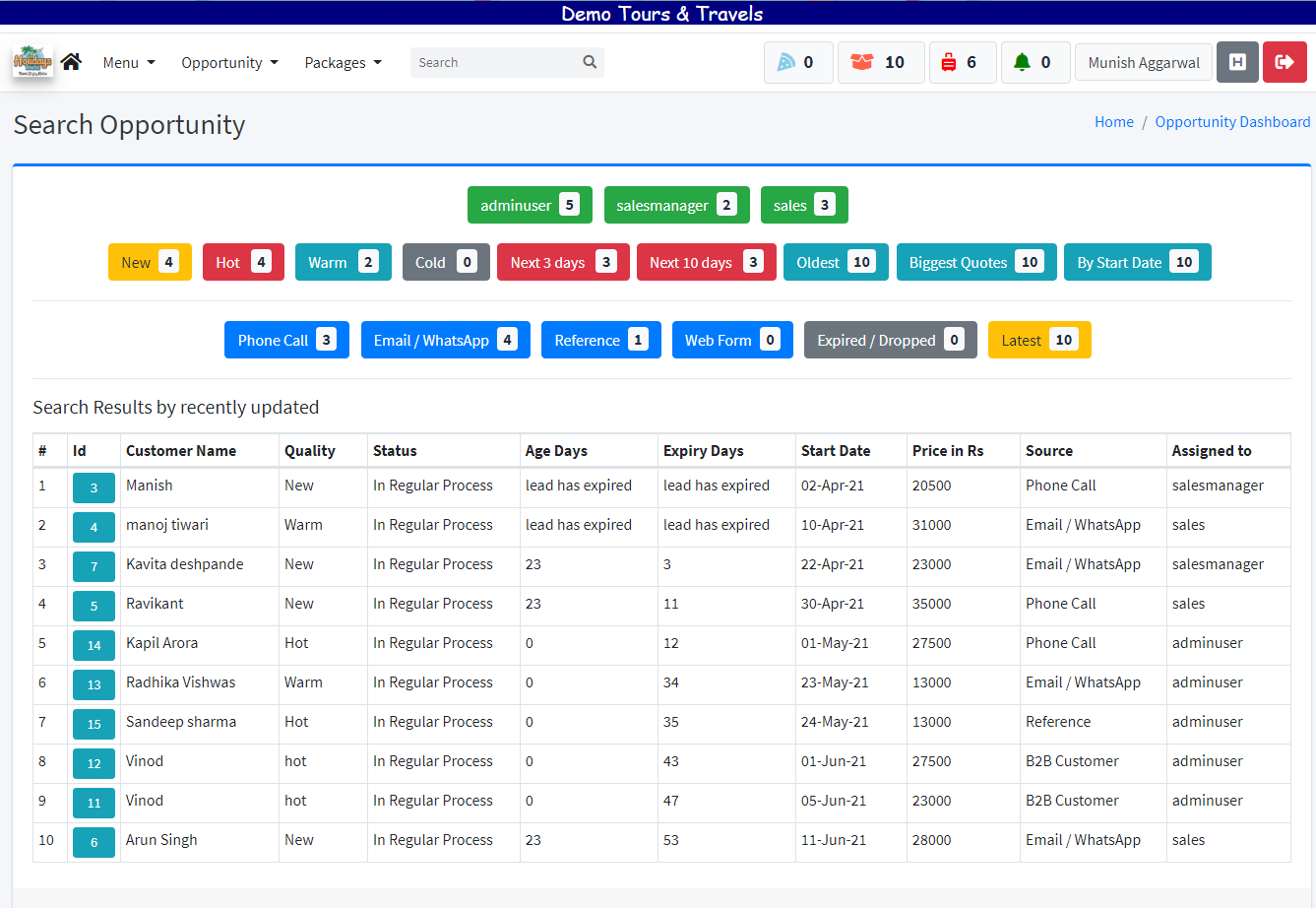 This section has filters based on hot / warm / cold opportunities, expiring soon, user based filtering, by biggest quote, by age etc. which can also be customized as per your requirements. Also has options for reminders.
Has options to add costing sheet, auto calculated profit percentage, customized itinerary and more. Compile all these details online and send quote to the customer from the system itself. Change lead status / quality and convert opportunity into packages
Itinerary & Destination Management
Design your custom itinerary details at a single place and send them to customer by mix and match to make customized tour packages
Contacts Management
Manage all types of customer contacts and services associated with them.
Package Management
This section has costing sheet  / hotels / Taxi bus / Miscellaneous services/ customer receipts and tour management
Add hotels send availability / booking  / cancellation mails form the system. Same for taxi and other services. Add suppliers. Automatic accounts building for suppliers as services and rates are added.
Manage customer receipts and view outstanding amount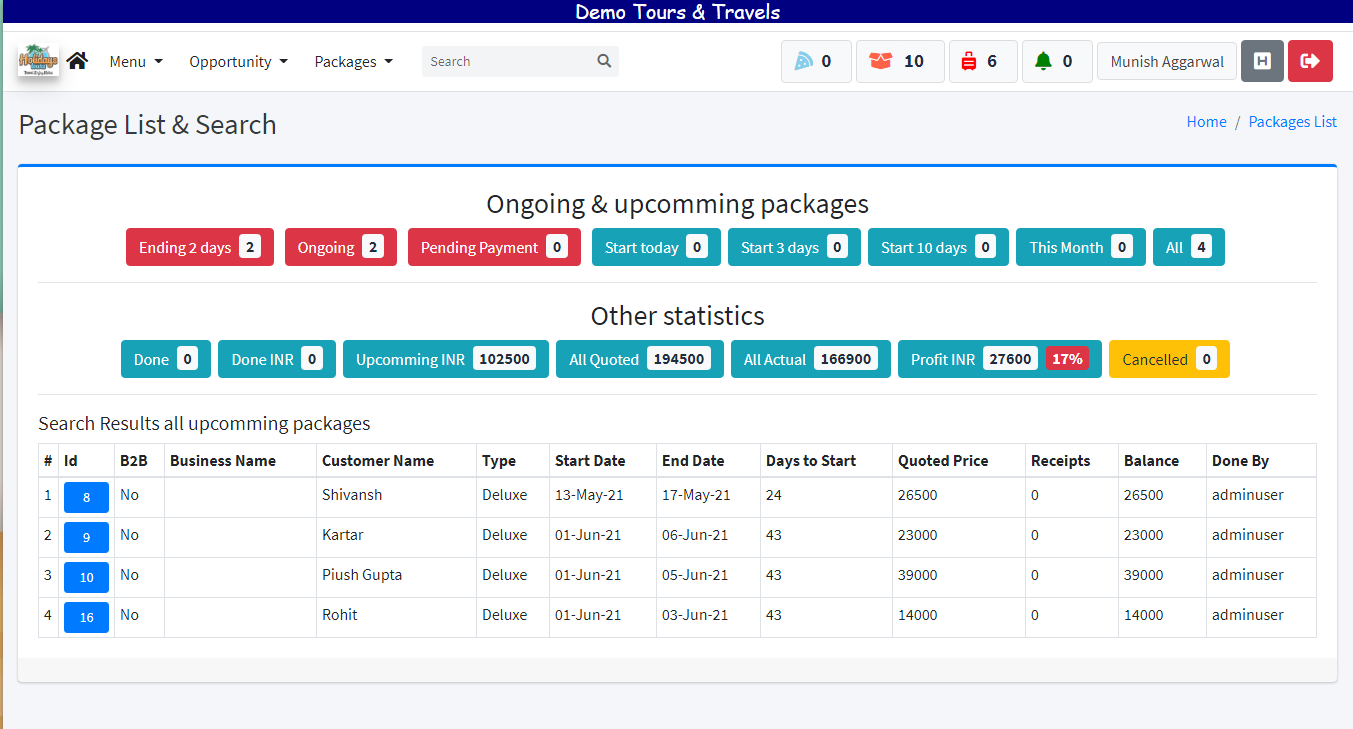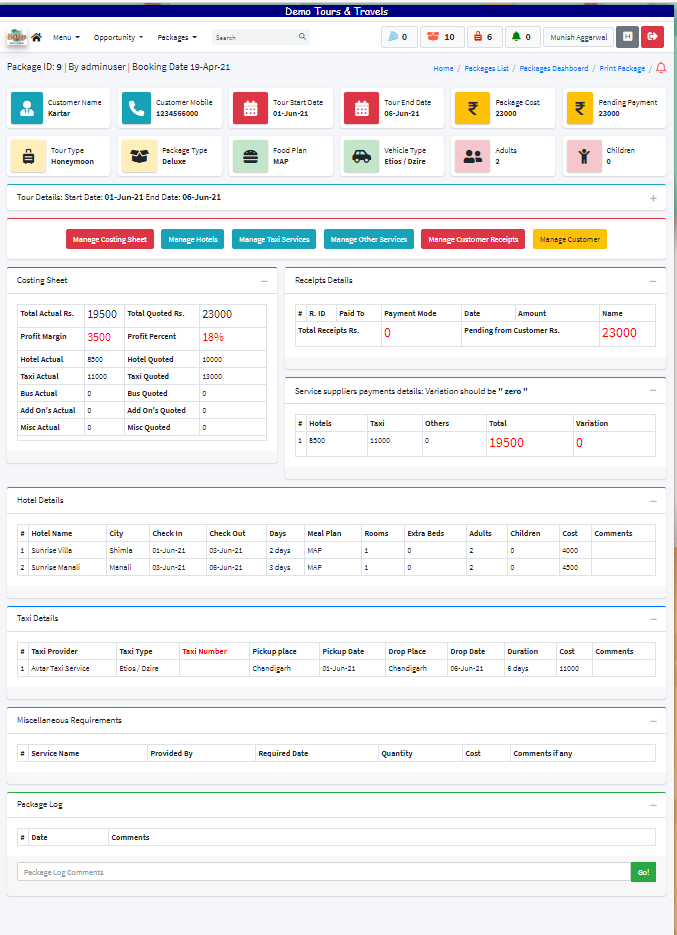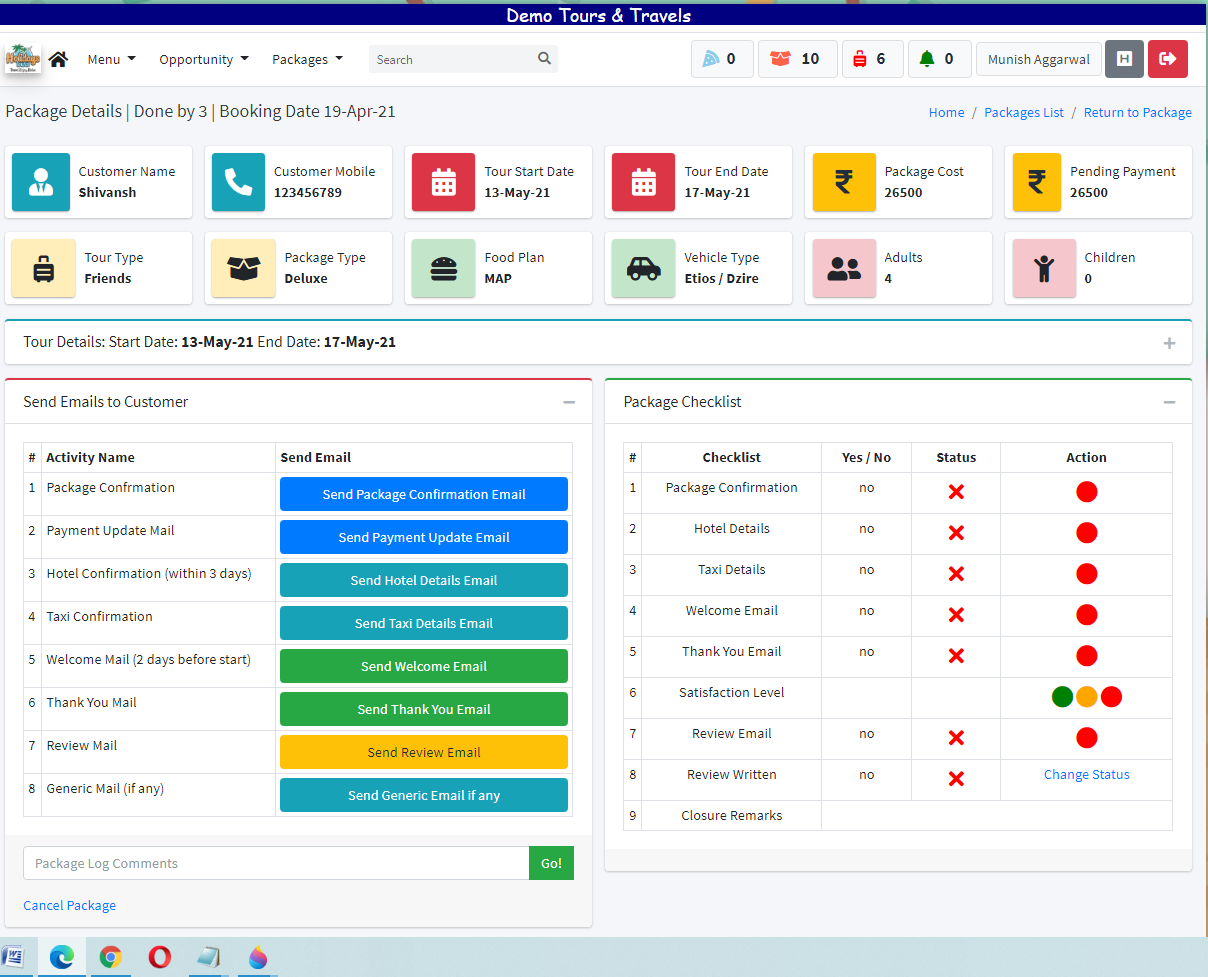 Package dashboard has filters based in ongoing / pending payments/ tours ending in next 3 days, starting today, next three days, this month etc. Get details of tours done,  turnover, profit percentage etc.
Customer management includes sending package confirmation  / payments updates / hotel and travel confirmation / welcome mail / thank you mails / review mails etc.
Suppliers Management
Manage all types of suppliers  contacts and services associated with them. Give access to suppliers where they can check their services offered and accounts.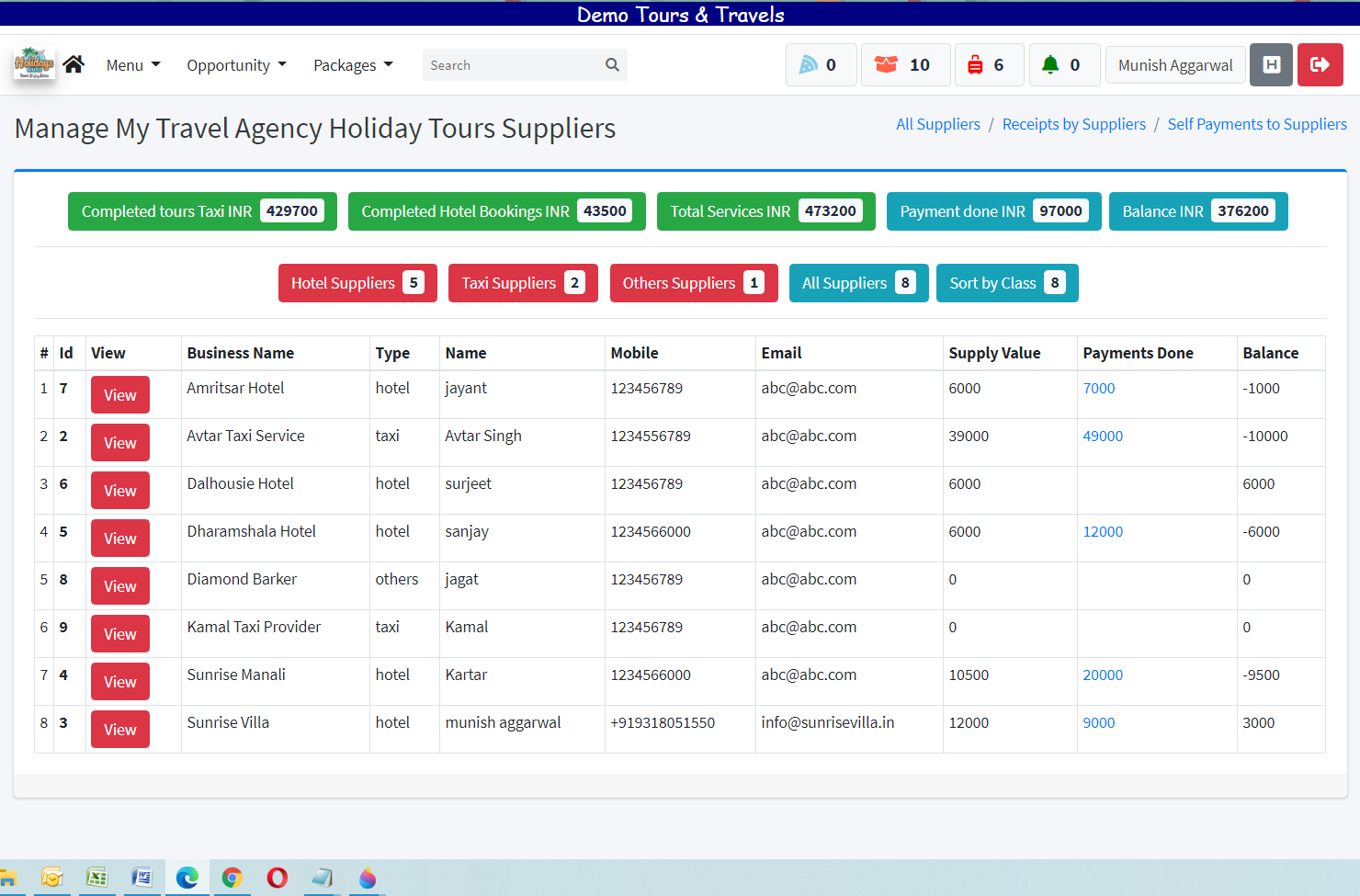 Accounting / Payments / Receipts
Manage both sides of accounting, customer and suppliers. Track profit for each package
Users management
Manage users, assign roles, limit access based on roles, block users , assign additional role of users if the typical user is absent on a particular day.
Simple and Powerful / cloud based / mobile friendly
Just login from any browser and start using the same. No installation required as it is cloud hosted. Access from anywhere PC, laptop, mobile, tablet on the go.
Designed by travel expert
Software designed by Munish Aggarwal, BE Electronics, MBA Finance has passion and hobby to design websites, SEO and CRM software. Have 15 years of managerial experience in telecom and worked with Tata Communications, Reliance Communications to name a few. Quit the job to do what I feel like. I like to do  everything from scratch. Read more about Munish Aggarwal
Why Sunrise Internet Solutions
We have more than 10 years experience in the travel industry
We know all the nitty gritty of small travel business. No need to maintain messy excel sheets
With your confidence and our expertise we want to create a win win situation for both of us.
You can start with as low as Rs 15oo per month / Rs 15000 per year with 5 users start with and increase gradually as you find your businesses grow. Contact Us for a free demo and use the software if it suites you.